We will post our experiences with ZAP and our new 2008 Xebra PK Truck. Also our review of the ZAP Xebra PK all electric truck here. Please check back often!!
2008 ZAP Xebra PK Truck at DepotEco.com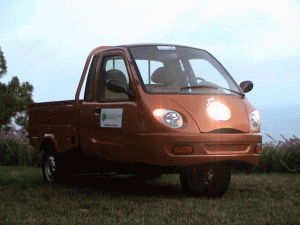 All Electric 2008 Xebra PK Truck
We Just took delivery of our new electric delivery truck! We have begun to condition the batteries and are learning how to drive an all electric Car. :).
Small Trips first, just a few miles then back home to charge up, then after a full charge we take a longer trip and gradually increase the range.
Our fist difficulty is our driveway and steep street leading to our drive. At more than a 30% slope it proves to be a serious challenge for the unconditioned batteries in the new Xebra. The fit and finish is poor, to be nice. We see issues everywhere, I know its "Cheap" but some of these things are embarrassing. Small details seem to be forgotten about at ZAP. The headliner and the windshield rubber don't line up very well. The door rubbers are way to big and rub the interior door panel thus making the door want to pop back open, obviously causing the door wear issues other 2006 and 2007 Zap users are experiencing. The leather seats came dirty! Big black marks on them, and it looks like the passenger side door / fender area rubbed at one time and a very poor bondo job was done. Then someone sprayed some paint that almost matched on the spot. Humm well, so far we love our new EV but it seams no one checked this over at Zap before they loaded it on the trailer and sent it to us.

ZAP's customer service seems lacking at this point as we are having issues getting them to respond. No real dealer network and the ZAP staff leaves much to be desired 🙁 .
Once we have some time with the Truck we will post all of our news about this Great New All Electric Truck.. More to come Pic's to. About time!
Less Oil More Green!
——————————————–
Update 7/24/08
WOW, after driving for the last 3 weeks in our new EV. The ZAP Xebra PK Truck we have quite alot to report.
ZAP Seriously Lacks Customer Service

The first most serious concern we have is the fact that the vehicle had 40 miles on the odometer upon delivery. We have asked ZAP several times for an explanation as to this and have only been told by our dealer SloEgo that "a few miles is normal and that 40 seems excessive". Upon further investigation we have discovered that the odometer is not accurate in the vehicle. It seems to add about 1 mile for every 4 miles actually driven. This would help explain 40 miles on a truck that no one had driven before. However, that does not explain the obvious body damage and poor repair job on the passenger side front right quarter panel door intersection. It appears someone attempted to fix the door rubbing and maybe a door ding before the truck was shipped to us.
Later we started hearing a very persistent squeak when the vehicle was driven about 8 miles or more. Upon raising the rear end up and allowing the tires to free spin we discovered the rear left (drivers side) CV boot was improperly seated. After re-seating the CV Joint and re-torquing the squeak has stopped.
This vehicle has also had issues with the drivers side door latch mechanisms failing when the door lock is depressed. Upon investigation we had to open up the door panel and then disassemble the entire latch and door handle lock system. Then we found we needed to bend the lock tab on the door latch mechanisms to the appropriate angle to fix this issue.
Also, today we learned that the Xebra does not qualify for the State of California's EV rebate! As ZAP has it advertised on their web site. And the State of California also seems to think that the Xebra does meet the States qualifications. However this is not true, unless you spend another $750 for an extended warranty on the battery pack! Why is this not made clear to the State of California and to ZAP dealers & customers? We bought the 2008 Xebra PK EV thinking it did qualify for the EV rebate as advertised. This is a serious breach of trust ZAP!!!

When we called and asked directly about these issues we were told " oh well, it is what it is ! "… we were shocked. Yes, we expected to get a car that we knew did not meet up to the fit and finish standards of an American car. But to have ZAP's staff say " oh well, it is what it is ! " simply shocking! It does not seem that there is any real attempt to offer any customer service by ZAP. If indeed, we got a car that had not been dealer prepped. That is bad enough for $13,000. But after pointing all of this out ZAP's response has been very sad to say the least.
After all that we simply asked for the batteries extended warranty to be covered by ZAP and we would walk away a happy customer. However we were told we would need to pay! OMG!

In conclusion I must say we are very excited about the New 2008 Xebra PK and what

WE

will make out of it. But I must warn everyone about ZAP as a Co. They do not have a dealer network setup to deal with issues and service (at least not in Central California). Nor do they seem capable enough to handle even simple customer support issues. They talk around the issues but offer no support. Because of this I would warn all of you to be careful. If your like me and you like to tinker then the XEBRA is not a bad choice for alternative transportation. But, if you expect to get a quality built car with fit and finish standards similar to a U.S. or Japanese car standard, or a Company that will stand behind there product, then stay far away from ZAP.
————————————-
2008 72 Volt Xebra PK Performance.
So Far So Good. We have been averaging about 18 miles round trip. This includes our super steep driveway and steep street leading to my drive. I do have to take my hill into account when I leave. This means that I am using part of my ra

n

ge to get up my hill. As the batteries condition to longer drives they seem to get better, but I do believe that its happiest at a range of about 17 miles round trip. The average speed is about 30 mph and it can get up to 40 but keeping it there drains the batteries faster, slower speeds are the best. Finding a road where your not in the way at about 25 MPH is ideal.
Ride is ok, a bit stiff. And it did tip on two wheels today! . This seems to be because the front tire was low. As I made a 20 mph curve the sidewall of the tire collapsed and allowed the rear right tire to lift off the ground. This caused the front of the truck to drag and scrape off some Chinese bondo on the road.
Lesson learned. Check the front tire every day!. Oh and swap it our for a motorcycle tire that has stronger sidewalls.. Duh ZAP ! …
Inside, the truck is very stark and cheap. The window cranks almost hit the dash but your hand will if you try to roll up the window with the door closed. DUH ZAP! The seats are adjustable but cannot move because the seat belt attachment point stops the seat from traveling anything but about 1 inch. The windows don't roll down all the way. Very annoying. Zap does not provide any instructions for operation of the Chinese CD/Radio/MP3 unit. You get a heater (really its a front window defogger) but no outside air or cool vent air, only hot. The glove box is just that it will hold a pair of gloves and you can still fit your registration papers in it.

This is now becoming a passion to make my 2008 Xebra PK into something that people can actually use. And I mean the average person that wants one to drive to the store and back. As it is now I would not feel comfortable with my mom, wife or friends driving it! But that will change.
If ZAP won't DepotEco will !
Stay tuned. We will continue posting our improvements and experiences with the 2008 Xebra PK Truck.
Feel free to post your questions & comments.
"Have a Green Day"
Depoteco.com
Update: 8/4/08
OMG!!!! I Must say , we just installed the Woodward Spring kit for the 2007 PK Truck on our 2008 PK, This was like going from riding in an old stage coach to a Cadillac. Super easy to install and yes it takes a slight mod to use the 2007 kit on the 2008 PK truck but its super easy. Ill post more later but for now I must say nice work Woodward !
Update 8/5/08
Today we have all of our parts installed for our new added 12volt battery making the system 84 volts from 72 volts. We got all of the parts needed at Grants Pass Electric Vehicles and Woodward Aftermarket Components. So far they have both been great. Excellent service and very helpful attitude. Unfortunately our extra battery came broken from UPS. Now there seems to be some issues between Grants Pass Electric Vehicles and the Battery suppler Battery Systems. I did sense some hostility from one of the staff at GPEV when discussing our options for replacement of the damaged battery. Hopefully GPEV will work this out as we like dealing with them.
———————————–
Update 8/15/2008
NEW !! 84 Volts "Super PK" Performance.

Lots of news,
First, GPEV did come through. They replaced my damaged battery and we are all square. We will start stocking some of the Zap Upgrade parts from GPEV and other sources. Thanks GPEV for the parts and service. !
Next.
We have just finished installing our 7th battery into our system. (YEA) This makes a huge difference. For us it was absolutely necessary so we can get up our very steep hill, and driveway coming home. Without this extra voltage I had to stop at the bottom of my driveway and charge it for at least 15 to 30 minutes. Now, with the extra voltage of one more 12 volt battery we have gained at least 15% more power and speed. We were having a hard time averaging 35 mph with the stock set up. With the new setup we can hit 45 easy and 50 is actually available if you really need it!. That's awesome. Range ? , I don't know yet. I am using up at least 30% of my batteries getting up my Hill and driveway here. So my next test is a good long trip. So far we have done a respectable 20 miles round trip with a short one hour helper charge when parked in the only City EV spot in Santa Barbara! (so sad). Anyway, all said we have now added a Pak Trakr system that tells us the voltage of each battery in our pack, We added battery equalizers that keep all the batteries in the system at the same voltage (balanced). We have removed the stock rear springs and replaced them with much, much, much better performing springs that allow the shocks to take most of the bumps in the road. Now we have a very acceptable ride. We have added a 7th battery ramping our systems voltage up to 84 volts. Now I can say I would let my wife or someone else drive it. As I can now get it to pass the test of my hills. I can actually use this as a grocery getter, hardware runs etc car.
I will continue to upgrade the insides and maybe move to the next level with a 96 volt system. Stay tuned for more..
——————————————–
Update 9/20/2008
Things are looking very good. WE have been driving just about anywhere we need as many times as we need as fast as the roads will allow. Now with the added battery the Xebra Super PK is great!.  I have found that when it does sit for a few days the Battery pack seems to loose its range a bit. But this comes back when we drive it more and more. After sitting for more than a week with no use , It got me everywhere I needed and back home. The absolute best addition is the Pak Trakr unit that allows me to see how much life the pack has left. Like a fuel gauge! this is absolutely the best improvement. Now I have a gauge to tell me if I am about to get in trouble and need a charge. Or in my case if I have enough juice in my pack to get back up the hill and then my driveway.  So far so good.  Also I understand ZAP is now importing a newer PK SD sedan that has been designed a bit better. Things may be picking up for ZAP.  I am extremely happy with the improvements we have done to our PK truck. The extra battery and the improved suspension.  Last improvements are the interior lighting we have added. Stock the PK has no inside illumination at all. so we added a set of led  lights and a cool USB light as a map light. Now we have light to see direction selector. F/R   There are of course many things to pick at, But I get to laugh and wave as i drive by the Gas stations. Those places I go to get Air for my tires 🙂 . The next task is to get the city to provide more EV parking spots.  More to come.
Battery memory is a slight issue. As I have reported in the past my Zap PK can sit for a few days as I do way to much work at my desk 🙁 .  So this means that I might not drive it for 2 or 3 days.  When I drive it again I have lost considerable battery range!  Not enough to keep me from getting home, but not as much as the 40 miles I was almost getting.  The memory  bounces right back the next time I drive it but it is a consideration to be kept in mind. Until we have a good source of Lithium Batteries you will want to drive your ZAP PK at least once a day.
——————————————–
Update 10/31/2008
We lost a battery cable today, Looks like a bad crimp job on one of the Battery Cables.
This caused the Pak Trakr to alert me 🙂  very nice! Upon inspection my Battery Equalizer from Smart Spark also indicated that the # 5 Battery was having issues.  When I checked it out I could clearly see that the crimped on terminal end (battery cable end) was loose causing it to heat up enough to start to melt the rubber boot and cause it to turn black where it touched.
My next upgrade will be marina grade 2/0 with copper tinned marina grade terminal ends. This is not a surprise to me as the original cable is under sized on the battery pack from ZAP! The first thing I did was to upgrade the Drive Cables when I first got the PK. Now for the Battery pack I will size up to 2/0 ( two ought) for the absolute least resistance and heat within the pack.

Check back very soon.
——————————————–
Update 4/29/2011
Wow how time files. Last thing was the upgrade to the Heavy Duty 2/0 ( two ought) battery cable.
Well we have completed this Mod and it is a Huge help with our Hills. In fact with the bigger wire we are seeing much better performance all the way around.  We also removed the Smart Spark Battery EQ as direct by the Manufacture. We replaced them with the Power Cheq devices and have not missed a beat.
So far the Zap is doing great.  And with that its about time for us to trade up to a new Electric Nissan Leaf.
So we soon hope to be Changing things up a bit with a ongoing review of our all Electric Nissan Leaf. We are on the list to receive a New Leaf and will use the ZAP as a Trade in.. Cool, trading in an electric car for a new electric car..  ( Meet George Jetson………)

Update 5/5/2011
Happy Cinco De Mayo
Today we received our Reservation for our new LEAF.
Ill continue to update as we go through the process.  For us its even more exciting because we will be one of only a few that is trading in and all electric for an all electric!.
We will create new review post on our blog of the Nissan LEAF and our use of it , much like the ZAP PK Review here..So look for that coming soon.
7/01/11 Update:, Our LEAF is In Our Hands..